Alone On A Journey on Kickstarter!
---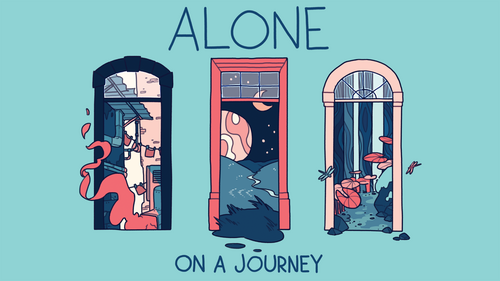 Hi everyone! I just wanted to make a quick announcement about Alone On A Journey, which is wrapping up a Kickstarter campaign for Zinequest 2 right now! It's a first time physical version of my games, and it includes Alone Among the Stars, Alone in the Ancient City, and Alone Among the Twisted Trees, a new hack of Alone on the Rocky Beach inspired by weird horror and the uncanny found in SCP Foundation articles, Magnus Archives statements, and Bluff City.
It also has incredible new cover art by Shannon Kao, and layout by Quinn Vega. It's also going to have a blank template to write your own hack of Alone Among the Stars, as well as some tips on hacking Alone games, and blank journaling pages so you can start playing or playtesting right away. The campaign has already funded, and hit a couple stretch goals as well, so now's a great time to back. We'll be including two postcards that have more art by Shannon from her playthrough of Alone Among the Stars, as well as an EP of BGM based on each of the games that I'll be making at a later date.
Finally, I want to thank you all so much for your support of Alone Among the Stars and the rest of the Alone games. I never imagined how much support I would get for a little game I wrote one night in the middle of summer, and I'm so grateful to y'all. May you find the adventures you seek!
https://www.kickstarter.com/projects/noroadhome/alone-on-a-journey/

Get Alone in the Ancient City